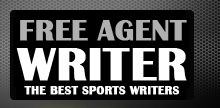 Yankee Addicts
Categories
Featured Sponsors
News published by
March 19, 2010
Charlie Whitehurst was drafted by the San Diego Chargers in the third round of the 2006 Draft. He is a promising quarterback who has the skill set and arm to play ...
March 17, 2010
With the departure of Rob Sims to another team today or tomorrow, you have to wonder what is the Seahawks front office doing? Well, simply put they are cutting ties with ...
March 16, 2010
Darryl Tapp has been traded to the Philadelphia Eagles. The deal includes Chris Clemons and a 2010 fourth round pick. I'm also scratching my head...Chris who? Chris Clemons a 6'2", 240 pound DE/LB. ...
March 16, 2010
Deon Grant has been released by the Seattle Seahawks. Adam Schefter ESPN has posted on his Twitter account. Grant's time served here was nothing short of great. He was the one ...
March 15, 2010
The Seattle Seahawks have added 6'4" 220 pound wide receiver Ruvell Martin. Martin is a five year veteran. Martin was an undrafted free agent picked up by the San Diego ...
March 13, 2010
In the past few months, I've seen many Seattle Seahawks fans squabble over who and what the organization should do in the following months. Many say they should take ...
February 22, 2010
With the draft coming up, I've heard some comments about lower round QB's. So I comprised a slide show of these lower tiered QB's just so we could all get ...
February 20, 2010
Well let's start off by saying the UFA (unrestricted free agent) class this year isn't bad, due to the collective bargaining agreement, it should be better. Remember with UFA's, we don't ...