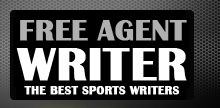 Yankee Addicts
Categories
Featured Sponsors
News published by
December 25, 2011
Raider Nation is exhausted with Saturday night fever after the Oakland Raiders went to Kansas City to beat the Chiefs in a nail-biter. The game and the Raiders predicament can be summed up with that old ...
April 4, 2011
After the previous seven years of futility, 2010 was a year that showed the Raiders just might turning the corner. They finished the season at 8-8 and seemed to be ...
March 15, 2011
The C.B.A. was not reached this evening to my chagrin. The owners negotiated in bad faith in the beginning with the $4 billion they had guaranteed from the networks. Then the ...
March 14, 2011
There is a plethora of ways that the Oakland Raiders can put together the right ingredients to cook up for 2011. I have written plenty of articles on what the Raiders ...
March 7, 2011
Oakland Raider owner Al Davis is looking to cook up something big for the 2011-2012 season. The NFL Scouting Combine is now over and free agency should soon start, provided ...
March 3, 2011
The 2011 scouting combine is now a rap, and the Oakland Raiders' draft picture seems to be a bit clearer. The Raiders have always known who's big but now know ...
February 16, 2011
For the last seven years going into the 2010 season, the Oakland Raiders were known as the most dysfunctional franchise in the league. Raider Nation was known as the place ...
February 14, 2011
Every football fan in America these days knows of the big mistakes Al Davis has made in recent years. Both draft busts and free-agent busts have led football fans to ...
February 9, 2011
Sunday's Super Bowl was a up and down but entertaining struggle to between the two best teams in the NFL. Some watched the game purely for entertainment value and as ...
February 3, 2011
I've seen the Oakland Raiders' top 10 all-time players list on NFL network many times. There have been so many Raiders who have done so many different things that any ...