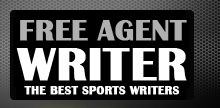 Yankee Addicts
Categories
Featured Sponsors
News published by
January 21, 2011
Many in the media and otherwise love to credit Tom Cable for the turnaround with the Oakland Raiders. They say "he got the shaft" or "Al Davis is crazy (again) for firing ...
December 31, 2010
The Oakland Raiders have but one thing to play for while in Kansas City for their Week 17 showdown. They have a chance to finish at .500 for the first ...
December 22, 2010
Darren McFadden came out of the University of Arkansas with the bombast of his 4.27 40-yard dash time. He was then drafted by the Al Davis and the Oakland Raiders ...
December 17, 2010
The Oakland Raiders playoff vital signs are low and falling fast now that the San Diego Chargers destroyed the San Francisco 49ers. But the Raiders still have a pulse and will ...
December 8, 2010
The Oakland Raiders just won their biggest game of the year against the San Diego Chargers. That puts them in second place in the AFC West along with the Chargers at ...
December 1, 2010
Watching Tom Cable coach does absolutely nothing but one thing for me. It makes me wish upon a lucky star that Davis would somehow bring back Jon "Chucky" Gruden. Cable has fumbled ...
November 29, 2010
Watching the last two games, it looks as if the "Great Regression" has hit Raider Nation. No wonder why the Raiders are getting blacked out on a weekly basis with one exception. After ...
November 19, 2010
Darren McFadden is shedding his bust label by averaging 108 yards per game this season. But he faces the the Pittsburgh Steeler's top ranked run defense on Sunday. There are many ...
November 12, 2010
If the Oakland Raiders finish the season above .500 this year, Richard Seymour must be at least considered for league MVP. What? Yeah, I said it. Seymour so far looks to be the ...
October 28, 2010
People around Raider Nation are still screaming for Bruce Gradkowski even after the Oakland Raiders put a 59-14 whipping on the Denver Broncos. Jason Campbell posted a season high rating ...