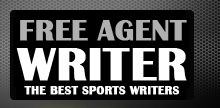 Yankee Addicts
Categories
Featured Sponsors
News published by
December 12, 2015
Crashing playoff parties for their opponents is what the Tennessee Titans must do over the remainder of their season, and it starts this week against the New York Jets.  The Jets ...
November 28, 2015
If the Tennessee Titans are ever going to get over the hump, then they're going to have to start winning games at home. They're currently on a 10-game losing streak ...
November 14, 2015
The Tennessee Titans will try to make it two weeks in a row of upsetting a team from the NFC South. Last week Tennessee took down the New Orleans Saints ...
November 2, 2015
There haven't been a lot of games that looked winnable on the Tennessee Titans' schedule this season, but a game against the Houston Texans was certainly one of the them. The ...
October 31, 2015
It will be another week where the Tennessee Titans will have to try to scratch out a win without their franchise quarterback. Marcus Mariota has officially been ruled out against the ...
October 17, 2015
It will be a matchup between a pair of 1-3 teams desperate for wins, with the Titans still having the most to gain in a division that's still very much ...
October 10, 2015
Another big game comes this Sunday for the Tennessee Titans as they try to finally turn a "moral victory" into an actual victory in the win column. The Titans will get ...
September 28, 2015
We have now officially seen the highest of highs and the lowest of lows for Marcus Mariota and the Tennessee Titans. The Titans blew a late 13-point lead to lose to ...
September 26, 2015
An early-season division clash with the Indianapolis Colts could end up being the biggest game on the schedule for the Tennessee Titans when we look back on this season in ...
August 5, 2014
We're slowly starting to learn more and more about the new-look Tennessee Titans under Ken Whisenhunt. Training camp is in full effect and certain players are already starting to distinguish themselves ...