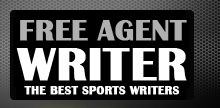 Yankee Addicts
Categories
Featured Sponsors
News published by
July 16, 2014
There's always some second-guessing to do after overlooking a team's offseason, and there are a few things that maybe should have been done differently for the Tennessee Titans. The Titans haven't ...
July 8, 2014
No one is really giving the Tennessee Titans much of a shot to make it to the playoffs in 2014, and that means this team currently has several sleepers to ...
July 1, 2014
It hasn't been a complete overhaul for the Tennessee Titans roster since Ken Whisenhunt became head coach back in January, but it's pretty close. Whisenhunt has the tall order of implementing a ...
June 10, 2014
Predictions are currently running rampant for all 32 NFL teams with the regular season still three months away. For the Tennessee Titans, the predictions are even more challenging due to a ...
May 24, 2014
There have been plenty of big offseason moves to go around for the Tennessee Titans since the conclusion of a disappointing 2013 season. The additions and subtractions the Titans have made ...
March 21, 2014
New head coach Ken Whisenhunt and his staff are currently in the midst of bringing dramatic changes to the Tennessee Titans, and it's maximizing Jake Locker's potential for success more ...
March 18, 2014
A clearer picture of what the Tennessee Titans starting lineup may look like in 2014 is coming now that free agency is in full swing. The Titans have made a few ...
February 18, 2014
With the 2014 NFL Scouting Combine just days away, the Tennessee Titans have to start sorting out what they're going to do with their 11th overall pick in the NFL ...
December 17, 2013
It's now officially time for the Tennessee Titans to start looking towards next season after an all too familiar overtime loss to the Arizona Cardinals. The comeback was impressive coming against ...
November 20, 2013
The Tennessee Titans may be in the middle of making a push for the playoffs, but it's never too early to start looking ahead to the 2014 NFL draft. It's still ...