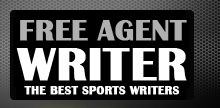 Yankee Addicts
Categories
Featured Sponsors
News published by
August 29, 2012
The NFL regular season begins in less than a week. The headlines have all played out during the offseason and the preseason. Injuries have been noted, most holdouts have been ...
August 6, 2011
I remember waking up on Saturday mornings and watching Reggie Bush all over the screen on ESPN's College Gameday. He was truly the biggest star in college football, and fans ...
August 6, 2011
Over the past decade, the NFL has really evolved into a passing league. With talented guys like Brady, Manning, Brees, Rodgers and Rivers, it is no wonder why the running ...
July 23, 2011
Over the last decade, the NFL has steadily evolved into a passing league. While most of us still like to see teams use the ground game to dominate ...
January 11, 2011
Well, with my 2-2 record on Wild Card Weekend, I will look to improve this week, as things really heat up.Of course, nobody could predict that the Seahawks would take ...
January 11, 2011
LeBron James sat in front of millions and told them that he was "taking his talents to South Beach" in an ESPN telecast. What if Peyton Manning decided to bolt ...
November 30, 2010
One of the hardest decisions a professional athlete must make, is when to retire from the game they love.While questions and jokes have been made over recent years in regard ...
August 14, 2010
As we get closer to the opening weekend for the upcoming NFL season, I thought I would go through and determine the five best secondary units in the league this ...
August 13, 2010
As the first week of the NFL preseason arrives, the bold predictions are made, the laughable breakout players are picked, and the Super Bowl matches are selected.So here we are, ...
August 3, 2010
Those of you that live for fantasy football, just hit the "back" button on your web browser now. For the rest of you out there, maybe you can relate to this. ...