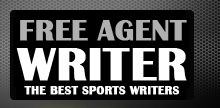 Yankee Addicts
Categories
Featured Sponsors
News published by
January 27, 2011
The NFL is on the verge of a labor stoppage after the current collective bargaining agreement expires on March 4. As the deadline approaches, the commissioner has pledged to reduce his ...
January 26, 2011
Rashard Mendenhall had a pretty impressive regular season for the Pittsburgh Steelers. He finished with the seventh most rushing yards in the league, and he had more yards than other ...
January 15, 2011
Troy Polamalu and Ed Reed are widely regarded as the best safeties in the NFL. They are both perennial All-Pros. These two play at a higher level than the rest ...
December 24, 2010
The Steelers are officially one step closer to winning the AFC North and securing a first round bye in the playoffs. The Steelers were a little slow to start the ...
December 24, 2010
Ben Roethlisberger couldn't get the ball securely into Issac Redman's hands and the Panthers recovered the loose ball. One area that Pittsburgh clearly needs to work on is protecting the ...
December 24, 2010
Carolina ended Pittsburgh's hopes for a shutout with a field goal that cut Pittsburgh's lead to 27-3. However, the Steelers have to be happy that they held the Panthers out ...
December 20, 2010
The New York Jets ran the opening kickoff back for a touchdown against the Pittsburgh Steelers at Heinz Field. This proved to be one of the key plays in the ...
December 19, 2010
On Friday, the Pittsburgh Post-Gazette reported that Troy Polamalu is unlikely to play against the Jets this weekend. Today, Adam Schefter and John Clayton reported on espn.com that the Steelers ...
December 15, 2010
When Santonio Holmes was traded from the Pittsburgh Steelers to the New York Jets during the offseason for a fifth round pick, the team was relying on second year receiver ...
October 19, 2010
By the letter of the law, James Harrison was in violation of newly revised rules relating to helmet-to-helmet hits on receivers when he hit Browns' receiver, Mohamed Massaquoi.  Harrison received ...