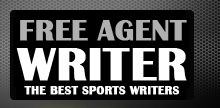 Yankee Addicts
Categories
Featured Sponsors
News published by
August 23, 2010
Every year, the preseason is subject to endless analysis, especially by fantasy football owners. And yet, the final scoreline hardly has anything to do with the regular season. Wins and losses in ...
August 17, 2010
Every year, new coaches have to prove that they belong, old coaches have to prove that they deserve to stick around and veterans who have switched teams want to show ...
July 24, 2010
The Miami Dolphins were once the poster-child for teams going from worst to first. However, most teams don't make that kind of insane jump. Most teams are happy just to have ...
July 21, 2010
Tennessee Titans running back Chris Johnson is coming off of a record-setting season. During a season in which the Titans went on a six-game losing streak to start things off, Johnson ...
July 20, 2010
Brett Favre is a media machine for NFL fans. The past few years have been full of "Favre-watch" treats. Is it a "will he or won't he" frenzy yet again? Not entirely. Most ...
July 15, 2010
Our military veterans are crucial to the success of our armed forces overseas. They provide the critical leadership and nose-to-the-grindstone attitude that inspires everyone else to do their best. NFL teams ...
July 8, 2010
Every year, fantasy owners draft a big name quarterback at least a round or two earlier than the marquee name deserves. This year, you won't make that mistake. Let others take ...
July 8, 2010
Every NFL season is full of its own little surprises, shocks, upsets, mishaps, blunders, twists, and skullduggery. We could all spend our days saying that the Indianapolis Colts will win at ...
July 1, 2010
Denver Broncos fans can often be divided along a single line these days-those who support Josh McDaniels and those who want his head on a pike outside Mile High. Regardless of ...
June 13, 2010
Every year kickers are forced to fall upon their own swords after missing a critical field goal or botching the extra point attempt. Some teams, however, really have a tough time ...