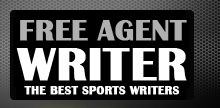 Yankee Addicts
Categories
Featured Sponsors
News published by
June 3, 2010
Every year a variety of players suffer season-altering injuries. Some miss more than half the season through a variety of injuries, while others end up being dropped onto the injured ...
May 31, 2010
Last year was a wild ride for the Bronco faithful. It swung the fans up and down the football emotions spectrum. There was hope, disappointment, disdain, confusion, and excitement. And that ...
May 28, 2010
At this point, we don't know whether Old-Man-Favre will be back for another season with the Vikings. But we do know that this season will certainly be his last ...
May 27, 2010
Look at it. It's greater than any work of Warhol, Dali, Picasso, or Van Gogh. It is a thing of pure manly beauty. Look at... THE MULLET. It is the calling card ...
May 26, 2010
While plenty of Broncos fans are ready to watch him go, Josh McDaniels is the head coach and there is nothing that can be done to change that fact. Team owner ...
May 23, 2010
The fans can't take another roller coaster season. Now is the time for the Broncos to be winners. Enough with the late-season choking, it is time to find a way to ...
May 13, 2010
Nobody foresaw the injury-riddled season of Troy Polamalu last year. With him off the field, the Steelers were repeatedly handed the short of the stick in the win-loss column. So ...
May 6, 2010
Every year, a face we've seen but haven't given much time to steps up at proves himself at the quarterback position. Just take a look at Matt Schaub last year. ...
May 4, 2010
A year ago, Knowshon Moreno was entering the league as a first round selection (12th overall) for the Denver Broncos. After a full season with the team, he managed to ...
May 4, 2010
No one saw Matt Forte's fall coming last year. Fantasy owners drafted him in their top five. He looked like he was going to supersede his rookie numbers and net ...