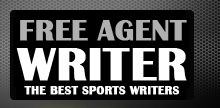 Yankee Addicts
Categories
Featured Sponsors
News published by
January 14, 2011
In ancient times… say 34 years ago (to be specific the year was 1977). A football revolution was born out of the old west in downtown Denver, Colorado.  It was ...
December 6, 2010
Josh McDaniels' popularity issues in Denver have come to a head, he has been terminated and relieved of his duties.  The initial report on DenverBroncos.com has stated that more information ...
November 1, 2010
It's time to face the facts. The Denver Broncos are at the crossroads to what kind of franchise they are going to be for the foreseeable future. Much in the way he ...
October 11, 2010
"Just a castaway, an island lost at sea, oh  "Another lonely day, with no one here but me, oh  More loneliness than any man could bear  Rescue me before I ...
October 7, 2010
Much in the way of NFL film study, the numbers are in on the Denver Broncos first quarter performance through the 2010 season and they don't lie.  There are a ...
September 16, 2010
A quick update: as reported by the Denver Post, the charges against former Denver Broncos standout Shannon Sharpe have been dismissed.The speculation around this information is that Sharpe was a ...
September 15, 2010
Just when you thought the news at Dove Valley couldn't get any worse, it does, this time in the form of a serious allegation against former Denver Broncos great ...
July 7, 2010
The Denver Broncos have long had a tradition of having a well-balanced offense that evolved over the decades. Ironically enough, the Broncos top 10 receivers fall in line along ...
June 22, 2010
It's contract posturing at its best on both sides of the table. It's the Denver Broncos vs. defensive lineman-turned-outside linebacker, Elvis Dumervil and his agent.  It's tough times and tough negotiating ...
June 4, 2010
  "In a world where I feel so small I can't stop thinking big"         RUSH – "Caravan" from the soon to be released disc 'Clockwork Angels'.      ...