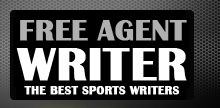 Yankee Addicts
Categories
Featured Sponsors
News published by
May 28, 2010
In football there is a reason behind having so many mini-camps.  It's all about repetitions, both mental and physical, and it's the only time all year long where roster ...
May 17, 2010
  "Head, shoulders, knees, and toes! Head, shoulders, knees, and (don't forget about the soul)!"  ~ A popular kid's song   Perhaps you'd heard the hype prior to him ...
April 14, 2010
  "…and there are some things happening in sports that will make your brain fall out of your skull."  -  Ron Burgundy, The Anchorman Brandon Marshall has found his way out of ...
March 29, 2010
The golden quip of football is that teams should own the services of a quarterback that is capable of elevating a team from being average and normal to being great ...
March 18, 2010
In part two of this article we will explore more deeply the net affect and results that the screen game has had on the Denver Broncos offensive scheme. If you ...