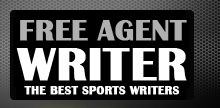 Yankee Addicts
Categories
Featured Sponsors
News published by
December 17, 2010
The San Diego Chargers rolled on Thursday Night, posting a brutal 34-7 beat down of the San Francisco 49ers as the Chargers closed out their home schedule and put the ...
December 15, 2010
Another week in the NFL has passed, and so comes the time for a new round of power rankings.After losses by the New York Jets and the Kansas City Chiefs, ...
December 8, 2010
To put it out there as plain and simple as possible, the Denver Broncos have had an awful season. After starting off the Josh McDaniels era at 6-0 last year, ...
December 7, 2010
After a week of so of jawing, mostly on the part of the New York Jets, the game is in the books and the dust is settling on the New ...
December 1, 2010
Wow, the NFL season is really cranking along faster than most of us expected, isn't it?Here we are heading into Week 13 of NFL action already.You know what that means? ...
November 29, 2010
The San Diego Chargers have put another win in their books after bringing down the Indianapolis Colts on Sunday Night Football.There was a lot to like in the Chargers' win. ...
November 18, 2010
Another week is heading quickly towards the weekend, and you all know what that means.Oh, yes, another weekend of NFL football is coming right for you.Chargers fans are particularly excited ...
November 16, 2010
With another weekend officially gone, another weekend of football is just off on the horizon.Once again, the AFC was completely shaken up this week, and now there are a couple ...
November 13, 2010
After nine weeks of NFL play, the San Diego Chargers have finally reached their bye week, and it could not come at a better time.While the Chargers were starting to ...
November 10, 2010
Well, well, well, here we are, over half way through the season, heading into Week 10, where things start to get interesting.While this weekend doesn't boast a whole lot of ...