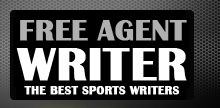 Yankee Addicts
Categories
Featured Sponsors
News published by
February 18, 2011
Among the big headlines today is the news that star safety Oshiomogho (O.J.) Atogwe was officially released by the St. Louis Rams, who avoid an $8 million bonus payment by ...
January 20, 2011
It's so strange to think that the 2010-2011 NFL season is almost over, with only four teams still in the hunt for the Lombardi Trophy.It seems like the Rams were ...
January 18, 2011
The 2011 NFL Draft is just around the corner.Can't you just smell it in the air?Players like Nick Fairley, Patrick Peterson and A.J. Green are all undoubtedly starting to prepare ...
January 12, 2011
While many people were still marvelling over the Seattle Seahawk's upset of the New Orleans Saints in the Wild Card round of the NFL Playoffs, a big story broke for ...
December 31, 2010
The big news for the Seattle Seahawks this week is that, due to injury, Matt Hasselbeck is likely to sit in their climactic end to the regular season in favor ...
December 30, 2010
Yesterday, the NFL announced that they would be fining Brett Favre $50,000 for failing to cooperate in the Jenn Sterger investigation, a result that only further shames the 40-year-old quarterback ...
December 27, 2010
As I was watching Tulsa tear apart Hawaii in this year's Hawaii Bowl, a couple of players stuck out to me: Greg Salas, G.J. Kinne and Damaris Johnson to name ...
December 25, 2010
The San Diego Chargers (8-6) step onto the field to face the Cincinnati Bengals (3-11) in a Week 16 match up that promises to be full of stories. On one hand, ...
December 24, 2010
The Pittsburgh Steelers steamrolled the Carolina Panthers on Thursday in the first of the Christmas-week games with ease, ending the game 27-3.While the Carolina Panthers are assuredly the worst team ...
December 21, 2010
As the NFL moves into Week 16, there is one thing that hasn't changed: There is still no new Collective Bargaining Agreement (CBA). As most of you who have been following ...