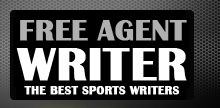 Yankee Addicts
Categories
Featured Sponsors
News published by
January 15, 2014
There is no position as important to a team as the quarterback and there is no player more important to the Pittsburgh Steelers than Ben Roethlisberger. Since arriving in Pittsburgh, ...
December 25, 2013
When the Pittsburgh Steelers parted ways with James Harrison, they knew they were losing one of the best playmakers at linebacker in the league. No wonder they were so excited ...
December 11, 2013
When the schedule came out, the Pittsburgh Steelers were probably hoping for something a little bit different with their Week 15 matchup against the Cincinnati Bengals. What could have been a ...
November 13, 2013
They may not be mathematically eliminated from the playoffs, but for all intents and purposes, the Pittsburgh Steelers 2013 season is over. With little to play for in terms of ...
October 23, 2013
The 2013 season finally presented Emmanuel Sanders with an opportunity to show that he was more than a third receiver for the Pittsburgh Steelers. Mike Wallace left for the Miami Dolphins ...
October 2, 2013
What happened to the Pittsburgh Steelers? A team with so much hope entering the 2013 season is one of the worst heading into its bye week. The defense can't pressure the ...
August 21, 2013
Doom and gloom has set in for the Pittsburgh Steelers after their second straight preseason loss. At least that is the case for some fans who believe that the season may ...
August 7, 2013
Mike Tomlin has sent a clear message in the first week of training camp for the Pittsburgh Steelers. He wants a physical, competitive team, and that is exactly what he ...
July 27, 2013
Heavy rain may have put a damper on the Pittsburgh Steelers' first public training camp practice, but that did not deter the team from having a strong effort. Even though they ...
July 24, 2013
When it comes to talent, the Pittsburgh Steelers rarely have an issue at linebacker, but that may not be the case this season. Given the lack of depth, the Steelers may ...