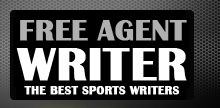 Yankee Addicts
Categories
Featured Sponsors
News published by
May 22, 2013
After one season in Todd Haley's offense, you can put to rest the talk that Ben Roethlisberger and his offensive coordinator would not get along. But while the two functioned ...
May 15, 2013
For the Pittsburgh Steelers, championships are the standard. Last season, they came nowhere near meeting this standard as they missed the playoffs for the first time since 2009. Entering the ...
May 1, 2013
Entering the 2013 NFL draft, the Pittsburgh Steelers had several positions that they had to address. Kevin Colbert wasted no time. He used the team's first four selections to add ...
April 17, 2013
By retaining Emmanuel Sanders, not only did the Pittsburgh Steelers secure depth at the wide receiver position, but the move also impacted the team's draft plans. Without Sanders, the Steelers ...
April 2, 2013
From offense to defense to special teams, the Pittsburgh Steelers have needs all over the field. That is a lot to cover for any team, but particularly problematic for a ...
March 27, 2013
One could argue that the 2012 Pittsburgh Steelers were one of the most talented teams in the league. When healthy, they appeared to be one of the strongest competitors in ...
March 20, 2013
Six years ago, the Pittsburgh Steelers had an unknown undrafted free agent take over for one of their great players, Joey Porter. That man—James Harrison. Harrison didn't just replace Porter, ...
March 13, 2013
The biggest news for the Pittsburgh Steelers in free agency will not be about who they signed, but rather who they lost.Mike Wallace was one of the top free agents ...
March 6, 2013
The Pittsburgh Steelers generated some buzz on Monday when they signed a free-agent cornerback to a three-year deal. No, the deal wasn't with Keenan Lewis—possibly the team's most important free ...
February 27, 2013
For a team that put an emphasis on running the football, the Pittsburgh Steelers were not very good at it last season. Despite running the ball on what seemed like nearly ...