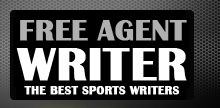 Yankee Addicts
Categories
Featured Sponsors
News published by
September 3, 2010
It's a little more than eight days until the Miami Dolphins open up the 2010 regular season at Buffalo.After finishing the preseason 2-2 and showing inconsistency on both offense and ...
July 30, 2010
Sure, starting quarterback Kyle Orton failed to receive a long-term commitment from the Denver Broncos. He struggled down the stretch and battled an injury despite passing for 3,800 yards.  As a result, ...
July 30, 2010
Touchdown celebrations should be in full force this upcoming season in Cincinnati. With both Terrell Owens and Chad Ochocinco playing for the Bengals, there should never be a dull moment when ...
July 23, 2010
Nobody expected the Miami Dolphins to repeat as AFC East champs last season. With the New York Jets on the rise and Tom Brady on the mend, the Fins finished with ...
July 6, 2010
With a storied franchise comes great players and history. The Miami Dolphins are a perfect example of such. From Don Shula to Dan Marino to Zach Thomas, Dolphin players have been some ...
June 1, 2010
For an organization that takes pride in all things 1972, Dan Marino, and aqua and orange, the Miami Dolphins have hit a low point. Last Wednesday defensive end Phillip Merling was ...