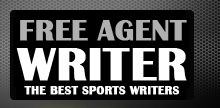 Yankee Addicts
Categories
Featured Sponsors
News published by
June 26, 2015
The Kansas City Chiefs want to get more from the passing game in 2015. That much is obvious after signing free-agent wide receiver Jeremy Maclin in the first round and ...
June 23, 2015
For three fan bases, the arrival of the 2015 season will induce as much nervousness as excitement. That's because any of the St. Louis Rams, San Diego Chargers or Oakland ...
June 19, 2015
The NFL offseason is officially over. In roughly six weeks, teams will report to training camp to get ready for the 50th season of the Super Bowl era.  Much has changed ...
June 9, 2015
He has talent, he's young, and he was set to become a free agent in 2016, so the San Diego Chargers re-signed defensive end Corey Liuget, the team announced. It's a ...
June 6, 2015
The Oakland Raiders undoubtedly improved the talent of the roster this offseason, but they didn't address the cornerback position or bring in a top pass-rusher. After finishing last in the ...
June 2, 2015
Quarterback Philip Rivers has been reluctant to engage in long-term contract talks with the San Diego Chargers this offseason. At first, he didn't want to talk at all, fueling trade ...
May 16, 2015
The Oakland Raiders made a point to give quarterback Derek Carr weapons this offseason. General manager Reggie McKenzie added wide receiver Michael Crabtree, running back Roy Helu Jr. and running ...
April 25, 2015
The New York Jets general manager Mike Maccagnan wasted no time putting his fingerprints all over the roster this offseason. After several big moves, it's safe to say Maccagnan also ...
April 11, 2015
As the value of quarterbacks has risen, so have the men whose job it is to put pressure on them. Edge players who can get after the quarterback are among ...
April 4, 2015
During the first few weeks of free agency, few teams seemed to be interested in former San Francisco 49ers wide receiver Michael Crabtree. Then, as Bleacher Report NFL Insider Jason ...