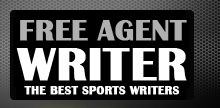 Yankee Addicts
Categories
Featured Sponsors
News published by
March 27, 2015
The Oakland Raiders have signed 11 free agents this offseason. Even though they weren't able to sign defensive tackle Ndamukong Suh or wide receiver Randall Cobb, they did manage to ...
March 21, 2015
For teams looking for premium players past the first 15 picks or so in the 2015 NFL draft, there won't be many options. The Seattle Seahawks decided to trade their ...
March 17, 2015
The San Diego Chargers have only dabbled in free agency to this point, which is usually a good thing. General manager Tom Telesco has focused on filling key needs only ...
March 14, 2015
The New Orleans Saints are making over their roster this offseason. A lot has been made of the team trading away tight end Jimmy Graham earlier this week and wide receiver ...
March 7, 2015
The Oakland Raiders continue to whittle down their twig of a roster in preparation for free agency. In the last week, the Raiders have released five veteran players, including running ...
March 4, 2015
The Kansas City Chiefs gave outside linebacker Justin Houston the non-exclusive version of the franchise tag Monday, which means other teams are free to negotiate a contract with him if ...
February 28, 2015
It took all of two weeks of the 2014 season for Kansas City Chiefs tight end Travis Kelce to go from playing about a third of the snaps to splitting ...
February 6, 2015
It took until almost a week into February, but the Oakland Raiders finally hired a defensive coordinator. The reward for their patience is Ken Norton Jr.—formerly the linebackers coach of ...
January 14, 2015
In his press conference Tuesday, general manager John Elway dismissed the idea that Peyton Manning's partially torn quad was the reason the Denver Broncos lost, 24-13, at home the Indianapolis Colts. The ...
September 27, 2014
The Kansas City Chiefs selected left tackle Eric Fisher with the No. 1 overall pick in 2013. Not only was he the first pick of that draft, he was also ...