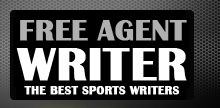 Yankee Addicts
Categories
Featured Sponsors
News published by
April 24, 2015
The work is never done for fantasy football owners who play in dynasty leagues, where rosters carry over from year to year. Instead of being able to scrap most, if not ...
April 17, 2015
2014 might have been a great year for the Dallas Cowboys' DeMarco Murray, the Pittsburgh Steelers' Antonio Brown, the Indianapolis Colts' Andrew Luck and several other NFL stars, but It was ...
April 11, 2015
In fantasy football you have your sleepers, and then you have your deep sleepers. Deep sleepers are not just people hooked up to sleep apnea machines who would not wake up ...
September 20, 2014
The buy-low/sell-high philosophy is not only successful in real estate, the stock market and at swap meets. This is one of the strategies employed by the smartest fantasy football minds. You ...
September 9, 2014
There were many fantasy football owners taking ulcer medications during the first week of NFL action. While many fantasy owners are concerned with Tony Romo's back, Cam Newton's ribs and Geno ...
August 12, 2014
You may have killed off some brain cells during the summer between thinking too much about your fantasy baseball team and partying too much on the beach, but you better ...
June 17, 2014
It is hard to be a productive running back in the NFL these days thanks to the dreaded running back by committee systems more teams are employing and with passing ...
February 15, 2014
Even with how the NFL caters to quarterbacks these days, some signal callers had trouble putting up decent numbers for fantasy football owners last season. Now that the NFL has gone ...
November 9, 2013
Not every NFL draft produces tons of fantasy football superstars. Even the big-time talents taken in the first round are no sure things to prosper.  This year's first-round draft class has ...
October 26, 2013
Last week was probably the worst one in a long time when it came to the amount of major injuries in the NFL. With superstars like Tampa Bay's Doug Martin, Chicago's ...