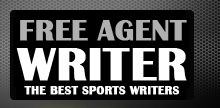 Yankee Addicts
Categories
Featured Sponsors
News published by
October 5, 2013
Fantasy football is just like the stock market. You win by buying low and selling high. One month into the season is the perfect time to trade players while their fantasy ...
September 14, 2013
New year. New teams. New offenses. New teammates. New coaches. New roles. Same fantasy football results.  One week does not make a fantasy football season. You should not be trading Tom ...
July 3, 2013
It is time to focus on fantasy football! The basketball and hockey seasons are over, folks, and baseball cannot take up every minute of every day for you. So whenever ...
June 22, 2013
There might not be any football played during the offseason, but that does not mean the fantasy value of NFL players just stays the same until Week 1 happens.  While ...
May 28, 2013
The NFL offseason has not been kind to many players thanks to injuries, new teammates coming in to take their jobs or the lack of interest they have received on ...
May 11, 2013
The NFL draft was a boon to the fantasy football values of all the college players entering the league, but not be for the veterans who will be losing playing ...
May 4, 2013
The NFL draft is not only beneficial to the college players who enter the league. It is also beneficial to the professionals who get to play with the highly skilled ...
March 23, 2013
Free agency not only helps a football player's financial situation, but in many cases it also helps his fantasy value.  Fantasy football unwritten rule No. 413: A player's fantasy value ...
December 9, 2012
The waiver wire is the only way fantasy football owners can upgrade their rosters in time for their playoff games, and there are still some great options available on it ...
October 27, 2012
For every fantasy football flop like Matthew Stafford, Justin Blackmon and Darren McFadden, there have been pleasant surprises who have either surpassed expectations or have come out of nowhere to ...