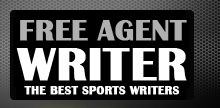 Yankee Addicts
Categories
Featured Sponsors
News published by
August 11, 2010
In 2007 Darrelle Revis was selected as the 14th overall pick in the NFL entry draft.  It was quite an honor, as he was the first cornerback selected that year, ...
July 21, 2010
The Steelers have faced a lot of adversity this offseason. While many prognosticators have chosen to use off the field incidents as a basis for predicting a bleak, non-playoff season, ...
June 3, 2010
Some analysts have said that Atlanta's schedule last year, against the east of each conference, was considerably tougher than this year's schedule against the AFC North and NFC ...