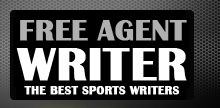 Yankee Addicts
Categories
Featured Sponsors
News published by
March 12, 2011
At 6:35 p.m. ET, ESPN announced that a lockout is imminent, as both sides of the table couldn't agree on a deal that would solidify the new collective bargaining agreement.  Shortly ...
February 18, 2011
As the draft approaches, many teams are gaining intelligence on some of their favorite superstars from the 2010-2011 college football season.Certain teams have spots that don't exactly reflect their needs, ...
February 6, 2011
Just moments ago, the names of seven great NFL players were called as they ready themselves for a new legacy: To be known as a pioneer and master of the ...
December 6, 2010
I think everyone understands that quarterbacks are overly protected by the officials and the league. I agree with fines being handed out for crushing defenseless receivers, but it's starting to ...
November 29, 2010
Since the Rich Gannon era in the beginning of this decade, the Raiders have been in constant search for the next best thing. So far, it's been to no avail. From Daunte ...
November 28, 2010
This is one of the most vicious rumbles I've seen as far as punches being thrown. Andre Johnson and Cortland Finnegan were going at it all game, but it came ...
November 9, 2010
Following a loss in Oakland, Kansas City hopes to rebound on what has collectively been agreed upon as an easy remaining schedule. Just how easy is the road ahead? The Chiefs will ...
November 6, 2010
Ending a streak of 11 consecutive television blackouts, the Oakland Coliseum will be a packed house this Sunday. Averaging a league-worst 41,000 fans per game, the Raiders continue to take baby ...
November 1, 2010
Streaks are made to be broken, as the Raiders proved this Sunday.  Oakland has finally won consecutive games, beating Seattle 33-3.   Darren McFadden was firing on all cylinders, Jason Campbell ...
October 30, 2010
You've heard it a million times: The Oakland Raiders haven't won back to back games since 2008.  I'm no mathematician, but given this fact, it means that the silver and ...