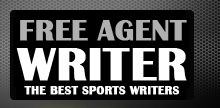 Yankee Addicts
Categories
Featured Sponsors
News published by
November 27, 2011
Someone told me that a president of a company asked that his priest visit his corporation and speak a few words over the territory.That sounded good, until the rest of ...
September 11, 2011
When you look at a major sports magazine and see that there is a short feature story of the cornerback the Oakland Raiders don't have anymore, you begin to realize there is ...
July 16, 2011
Recently, I read a very well-written article on the lockout and the issues that relate to retired NFL players before 1993. I agree with Ms. Spencer's perspective, and I responded ...
July 9, 2011
The NFL lockout has certainly interrupted the opportunity for the new coaches in the Oakland Raiders' franchise to get their collaboration strengthened and synchronized to build the 2011 team. Since there ...
May 20, 2011
Most people believe that the wide receivers are the guys who get the points in many of the NFL games. Here is a chart of data of several outstanding Oakland ...
April 26, 2011
Yes, I have been reading articles about the lockout. Surely, some folks are uneasy with the process of getting clarity and equity in the affairs of the NFL. One thing that ...
April 23, 2011
The Oakland Raiders have such a fine reputation for giving a gifted player a chance to demonstrate his worth that one fan wants Vince Young to join the team.Longhorn Fan ...
April 22, 2011
Rhythmic Pep Talk - Listen   You may not understand the dynamic but sometimes victory is in the stars. Many of us believe that a series of events similar to those for the ...
April 21, 2011
 Pep Talk for 2011 The Sound of the Oakland Raiders: Listen and Read Everything has a sound, sometimes audible, sometimes not so easily heard. "Autumn Wind" has been the song of the ...
April 21, 2011
Is there some type of conspiracy on sports websites like Bleacher Report? Why don't more women voice their opinions by writing articles on Bleacher Report? There are a decent number of ...