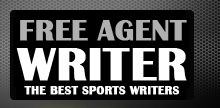 Yankee Addicts
Categories
Featured Sponsors
News published by
April 20, 2011
The Oakland Raiders 2011 schedule is on the website, www.raiders.com. There are four preseason games, but most of us are focused on the first game of the regular season, when the ...
April 18, 2011
We have got to look at the bright side of things. I read an article saying that some folks may need to see a therapist if the 2011 season does ...
April 10, 2011
Although most of the negotiations during the NFL lockout are confidential there is some information that can be shared. Look at this link and learn how the Oakland Raiders and other ...
April 9, 2011
In this article the names do not matter. The scenarios of the struggles are what should be shared with the public. Years ago, an Oakland Raider and his brother were ...
April 7, 2011
Let's just say that the Oakland Raiders data is discussed with colleagues no matter where we may be. In Washington, DC the fact that I am a Raiders'  fan came ...
April 6, 2011
I told you so. Well, I am certain you don't want to hear that common phrase used by sisters, brothers, friends and so on. It seems to me the rate ...
April 4, 2011
A few days ago I said that I would visit the location in Washington, DC where the NFL was holding its negotiations. I entered the building at 2100 K Street and ...
April 3, 2011
How do you keep yourself busy during the NFL lockout? Do you research the great players? Do you study the young college guys and free agents who might be good ...
March 31, 2011
Former NFL coach Joe Gibbs has experienced an NFL lockout. Gibbs had a coaching career with the Washington Redskins. As a fan, he says, "There's too much at stake…" In a ...
March 28, 2011
Well, no one knows when the NFL lockout will end. In the meantime, what do you do? Some of us are researching the outstanding college guys who just might fit well with ...