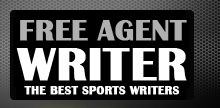 Yankee Addicts
Categories
Featured Sponsors
News published by
September 11, 2010
Newsreel reporter: It burst into flames! Get out of the way! Get out of the way! Get this, Charlie! Get this, Charlie! It's fire and it's crashing! It's ...
August 19, 2010
Fantasy football drafts looms as summer slips away again. So some timely tips to take to the end of summer fantasy football bash.   All fantasy football drafts are based on deception.- ...
June 28, 2010
The dose makes the poison. —Paracelsus, mad at his bad fantasy football draft. Bad draft day picks can poison your fantasy football team quicker than signing Albert Haynesworth to a ...
June 24, 2010
Shocking reports are emerging from Washington Redskins headquarters, where it appears that embittered defensive tackle Albert Haynesworth has eaten Redskins owner Daniel Snyder and choked to death in ...
June 10, 2010
Some teams seem to have eternally bad off-seasons and constantly terrible regular seasons. Maybe the Saints singing their victory song will change all that. Maybe the sad song for some teams ...