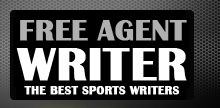 Yankee Addicts
Categories
Featured Sponsors
News published by
March 26, 2011
NFL officials announced yesterday the compensatory picks for each of the 32 teams in the league and with it the Philadelphia Eagles learned they are getting two additional picks in the seventh round, 236th ...
March 25, 2011
When it comes to which team(s) are likely to get burned the most by a lengthy owner enforced lockout of its players it is hard to determine who will be impacted ...
March 18, 2011
CBS Sports writer Mike Freeman initially leaked the report, Yahoo Sports is calling it a "risky" move, but regardless of what you or I will dub the letter that NFL ...
March 7, 2011
With the 2011 NFL Draft rapidly approaching and a lack of any real news created by this pending lockout situation, I've decided to pay respect to a couple of young players ...
March 2, 2011
With the potential that starting strong safety Quintin Mikell may depart from Philadelphia, the Eagles need a strong showing from literally last line of defense at the combine. Did they get ...
February 19, 2011
As most of my articles have included lately, I'll begin with the ususal. Unless the NFL and NFLPA reach a new collective bargaining agreement, no team can be involved in a draft ...
February 18, 2011
ESPN Insider Tom Kavanagh reported early Thursday morning the Philadelphia Eagles could in fact be in the market for the NFL's most feared cornerback—Nnamdi Asomugha. I'll start with the usual public ...
February 4, 2011
Philadelphia Eagles 2010 fifth-round draft pick Defensive End Ricky Sapp was gracious enough to sit down with Bleeding Eagle Green and discuss the status of his knee injury that required ...
January 22, 2011
When a NFL player receives such a blow that it knocks him out of the season as early as Philadelphia Eagles fullback Leonard Weaver did in 2010, the general assumption ...
January 22, 2011
According to reports on ESPN, Philadelphia Eagles defensive backs coach Dick Jauron has signed with Tom Heckert and the Cleveland Browns as their new defensive coordinator. Jauron spent just one season ...