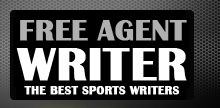 Yankee Addicts
Categories
Featured Sponsors
News published by
June 9, 2015
The San Francisco 49ers have myriad question marks as they head into the summer. One of the questions that must be answered: How good will the pass rush and pass ...
August 19, 2014
The time has come for the San Francisco 49ers to begin paring down their roster. With only two more preseason games left on the calendar, general manager Trent Baalke and ...
July 1, 2014
The San Francisco 49ers have a stacked roster with very few potential spots available. The practice squad is an ideal way for a team to hold on to its most promising ...
June 24, 2014
The 2013 season abruptly ended about six inches from glory, as Richard Sherman batted away Colin Kaepernick's intended pass to Michael Crabtree. The ball landed in the arms of Malcolm Smith, ...
June 14, 2014
The San Francisco 49ers accomplished one major piece of business by signing Colin Kaepernick to a long-term contract. The two sides agreed to a six-year, $126 million deal, but only ...
May 31, 2014
Cornellius "Tank" Carradine was selected by the San Francisco 49ers with the 40th overall pick in the 2013 draft. He was a first-round talent that slipped to the second round, ...
April 1, 2011
The San Francisco 49ers have had some of the greatest players in NFL history.The franchise has been blessed with superstars like Joe Montana, Jerry Rice, Steve Young, Ronnie Lott and Hugh ...
March 12, 2011
The San Francisco 49ers can't catch a break. In the year they have the No. 1 overall draft pick, there is no guaranteed lock, so they end up selecting Alex ...
January 28, 2011
In 2011, Michael Crabtree will be entering his third season with the San Francisco 49ers.  It's now time for Crabtree to show the 49ers the skills that led the Niners to select him ...
January 14, 2011
The Jim Harbaugh era for the San Francisco 49ers has begun.  There is a renewed excitement and vigor surrounding the 49ers and the reason is Jim Harbaugh. Harbaugh has already been ...