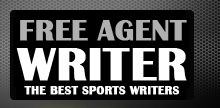 Yankee Addicts
Categories
Featured Sponsors
News published by
February 11, 2011
A segment during last night's O'Reilly Factor featured a Princeton University professor (who happened to be an African-American woman) asking American's to "vote with their wallets" and boycott Pepsi products ...
June 30, 2010
In a month, NFL.com will once again have a steady flow of relevant and interesting news to report.  Each NFL fan will feed on quarterback controversies and trade rumors to ...
June 14, 2010
  With training camp on the horizon, the Giants are taking stock of their depth at each position.  In 2010, perhaps no positional group on the roster is as intriguing ...
June 9, 2010
The bare essentials. Pomp and pageantry were never part of the Mara formula. Wellington, a firm believer that football should be the only attraction, never allowed the slightest garnish to ...
June 8, 2010
Next to the New Meadowlands sit the skeletal remains of the former Giants Stadium. Popular belief states that construction crews with wrecking balls and large machinery caused the large patch of ...