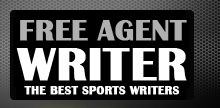 Yankee Addicts
Categories
Featured Sponsors
News published by
August 23, 2014
The Titans came into the game with a questionable defense and a stout looking offense. They left the game with little changed. Defensively, the Titans started out looking like an improved ...
May 25, 2013
The Tennessee Titans' 2013 squad features a lot of very promising young players. Just from the last three drafts, there is Jake Locker, Akeem Ayers, Jurrell Casey, Kendall Wright, Zach ...
February 20, 2013
The Titans have about $19 million in cap space this season, but with about $5.9 million expected to go to Jared Cook by way of a franchise tag, they're down ...
January 27, 2013
The Senior Bowl week is always a big one for draftniks. The weigh-ins always come with a few surprises, and those alone can drastically alter a player's stock.It's during the ...
December 9, 2012
The last time Tennessee and Indianapolis played, the game was full of controversial calls and ended with a particularly divisive one. After the Titans forced and recovered a fumble, the ...
October 27, 2012
Well, things certainly have changed from the old Titans-Colts games. For more than a decade, the Titans' first game against the Colts was a chance to either upset them and ...
April 18, 2012
The Titans are up for a wild season. After doing better than everyone expected last season (9-7), they have a very difficult schedule in front of them in 2012.There will ...
January 22, 2012
Despite being labeled as "weak" by ESPN analysts at the time of the draft, this year's rookie quarterback class has proven to be actually very strong.Cam Newton rewrote record books, ...