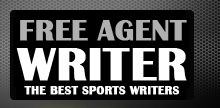 Yankee Addicts
Categories
Featured Sponsors
News published by
August 24, 2010
Preseason games do not matter. Well, at least not to starters who aren't trying to make the team. So, aside from the backups and those hanging on dearly to at least land a ...
February 23, 2010
SAN DIEGO - The San Diego Chargers announced on Monday the release of veteran RB LaDainian Tomlinson after nine years with the team. The release was expected after Tomlinson finished an injury-inflicted 2009 season ...
February 21, 2010
Welcome, Bryant McKinnie , to the growing ranks of regretful Tweeters. Your Twitter updates of strip clubs and partying the same week you skipped Pro Bowl practice has thrust ...
February 17, 2010
As per a report from Brian Murphy of the St. Paul Pioneer Press , Minnesota Vikings veteran defensive tackle Pat Williams will be returning for the 2010 season. News came from ...