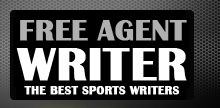 Yankee Addicts
Categories
Featured Sponsors
News published by
October 7, 2010
Denver at Baltimore -7 Both teams are coming off come-from-behind wins a week ago.  Joe Flacco is starting to return to his last season form that made his team a contender ...
October 6, 2010
Rumors have been running wild tonight that the New England Patriots are talking to the Minnesota Vikings about potentially trading superstar wide receiver Randy Moss back to Minnesota. Yes, Moss didn't ...
September 23, 2010
Michael Vick has done his time and now is finally back as a starting quarterback in the National Football League.  After spending 18 months in jail on dogfighting charges, Vick ...
September 18, 2010
Tom Brady, the quarterback of the New England Patriots and now the highest-paid player in the National Football League, has accomplished another feat. This year he will bring more money than ...
September 16, 2010
The amount of controversy and publicity that Ines Sainz has brought to the New York Jets football organizations is unbelievable.  It is not in a positive light and all of ...
July 31, 2010
This is not how Jerry Jones envisioned Dez Bryant's career starting as a Dallas Cowboy. Bryant sustained a high ankle sprain in practice on Friday. The preliminary timetable puts Dez Bryant out for ...
July 21, 2010
This is one storyline that seems to never change.  As it has been the past three summers, Brett Favre is once again on the fence about whether or not he ...
June 25, 2010
Michael Vick is currently the backup quarterback for the Philadelphia Eagles, but nothing is guaranteed in the National Football League. Especially when your name comes up in a confrontation that ...
May 24, 2010
Quite frankly, it is hard to remember what the offseason in the NFL is like when there is no talk about Brett Favre possibly retiring. I remember that tearful ...