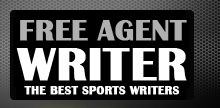 Yankee Addicts
Categories
Featured Sponsors
News published by
July 16, 2011
These days, the sports media has a way of singling out one college quarterback prospect every summer, and hyping him up to be the guy.Jake Locker, Brady Quinn and Matt ...
April 26, 2011
One key rule that I've learned from being an avid NFL draft follower over the last few years is that you should take everything you hear in the days leading ...
April 21, 2011
We're almost there folks. The 2011 NFL Draft is just one week away. Since the NFL is still in full lockout mode, next Thursday night is shaping up to be ...
April 18, 2011
Investing a first round draft pick in a quarterback has always proved to be a risky proposition for NFL franchises.For every hit and success story there seems to be twice ...
April 10, 2011
I've been seeing a lot of people downgrading the strength of this year's quarterback class over the last month or so, and I still can't really figure out why it's ...
April 7, 2011
As an avid NFL draft follower, I have no trouble admitting that one of my biggest annual pet peeves is when analysts and fans tag a certain player with the ...
March 15, 2011
As if dramatically slashing the salaries of incoming rookies weren't enough, reports surfaced today claiming that the NFL Player's Association is now actively asking this year's top prospects to boycott ...
March 8, 2011
Nothing splits up football fans quicker than a good old-fashioned, "who's the better running back" debate. Fans love to gush and argue over their favorite NFL running backs since it's ...
March 6, 2011
Where are we going?What does the future hold?What's the outcome going to be?These are questions plaguing the NFL right now as the clock on labor talks inches closer to midnight. ...
March 2, 2011
The NFL Combine officially came to an end today.The defensive back group, consisting of both cornerbacks and safeties, was the last to take the field at Lucas Oil Stadium in ...