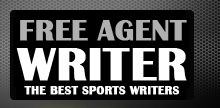 Yankee Addicts
Categories
Featured Sponsors
News published by
February 28, 2011
Can someone tell me why Da'Quan Bowers decided not to work out tomorrow?I know he had a recent surgery, but if Bowers thinks he can breeze over the combine because ...
February 27, 2011
Dear A.J. Green, Watch out. Julio Jones is coming for you. Quarterbacks Cam Newton and Ryan Mallett may have been the prospects who came into today with the most questions ...
February 27, 2011
Wow. That's the one word I could think of when watching Virgil Green today. The Nevada tight end exploded during workouts this afternoon, impressing onlookers with his size, speed and ...
February 26, 2011
Draft fans, the NFL combine is now upon us, which means it's time to sit back, throw on the NFL Network and watch some of the top pro prospects in ...
February 24, 2011
The annual NFL Scouting Combine kicks into full swing this weekend. You know that means it's time to get those stopwatches ready!Over the next few days, we'll have the chance ...
February 11, 2011
Auburn quarterback Cam Newton, possibly the most intriguing prospect in the 2011 NFL Draft, held a private workout for various media members at a San Diego high school this afternoon. ...
February 8, 2011
When Missouri DE Aldon Smith announced his intentions to leave school early for the NFL back in January, it didn't exactly send shock waves through the world of sports. Smith's ...
February 3, 2011
This year's NFL Combine will be held in Indianapolis, as usual, from February 23 to March 1. Over 300 of the country's top NFL prospects will be in attendance and it ...
January 29, 2011
We're now just moments away from kickoff of the 2011 Senior Bowl down at Ladd-Peebles Stadium in Mobile, Ala. This exhibition game, which pits the top senior pro prospects from the ...
January 29, 2011
It's here. Yes, NFL Draft fans, the Senior Bowl is finally upon us. Finally we get the chance to see the country's top senior pro prospects square off against one another in ...