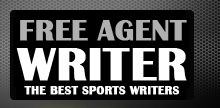 Yankee Addicts
Categories
Featured Sponsors
News published by
March 30, 2013
Trade reports and updates trickled in throughout Friday as the Seattle Seahawks and Oakland Raiders worked on finalizing a trade for Matt Flynn. While the deal was originally reported by ...
October 28, 2012
The New York Giants have played in Dallas three times since Jerry Jones opened his new Cowboys Stadium. Eli Manning is making a habit of autographing the wall in the ...
October 28, 2012
The Week 8 NFL games will be starting in a matter of hours but that doesn't mean fantasy football owners are ready for kickoff of the early games. With four ...
October 7, 2012
One of the bright surprises on the young 2012 NFL season is the emergence of Brian Hartline. He had a breakout game against a normally stingy Arizona Cardinals pass defense ...
October 6, 2012
Week 5 of the NFL offers 13 games over the weekend. The home team is favored in eight of them, but four of those teams are already on upset alert.If ...
September 22, 2012
The San Diego Chargers have been eagerly awaiting the return of their star running back. Ryan Mathews broke his clavicle and has been inactive for the first two games of 2012.It ...
June 6, 2012
The Seattle Seahawks are one of the teams that are most relying on their OTAs to prepare for a few rather important position battles this summer. They have three quarterbacks ...
May 30, 2012
The Seattle Seahawks have a long-standing tradition of recognizing the role the 12th Man plays with the team. One item that has accompanied the history since Pete Carroll took over ...
May 26, 2012
The Chicago Bears have built one of the NFL's better ground attacks around four-year veteran Matt Forte. He's been the only consistent force on their offense, and the front office ...
September 4, 2011
The Seattle Seahawks announced their final roster cuts, finalizing their 53-man roster at 6:00 PM PST on Saturday night; keeping fans guessing three hours after final rosters were due to ...