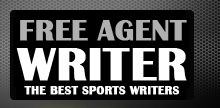 Yankee Addicts
Categories
Featured Sponsors
News published by
December 15, 2010
When the 2010 season started, many thought that Terrell Owens would be a distraction and do more bad than good. There were also playoff expectations for the 2010 squad.Neither have ...
July 29, 2010
With the NFL season right around the corner, I just wanted to give every NFL fan a taste of some of the things the media will be cramming down their ...
June 3, 2010
"And with the first pick, in the 1998 NFL draft, the Indianapolis Colts select..... Ryan Leaf, quarterback, Washington State University."   If only NFL commissioner Paul Tagliabue had uttered those word back ...
May 29, 2010
As we sit and watch our favorite NFL team every Sunday, we anticipate the great plays and momentum changing swings that an NFL game takes. We also love seeing the ...
May 26, 2010
25 years ago the Chicago Bears had one of the greatest seasons in NFL history. Defensively, their 46 scheme was unstoppable. Guys like Singletary, Dent, and Marshall were a quarterback's worst ...
May 25, 2010
It was just this past year when officials with the Miami Dolphins informed the general public of a possible upgrade to Sun Life Stadium. ( Former Dolphin, Joe Robby, Pro Player ...
May 24, 2010
Every NFL season the debate on how good a team is always arises. Whether it be a doormat that is off to a surprising start, or a power house that ...
May 20, 2010
The NFL is filled with records and facts, some being more relevant than others. But, just how many of these records are waiting to be broken, and how many are ...
May 20, 2010
It's been said a lot, especially in this tough economic time. "The more you work, the less you get paid, while the less you work, the more you make." Coming from ...
May 18, 2010
The NFL preseason just seems to get longer and longer. They start playing games in early August, with the Hall of Fame game, and don't get to the real games ...