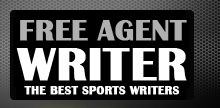 Yankee Addicts
Categories
Featured Sponsors
News published by
July 26, 2010
The 2009 season was the "year of the quarterback". A record-breaking 10 quarterbacks threw for 4,000+ yards and all of them threw at least 26 touchdowns. Even historically smash-mouth teams ...
July 25, 2010
For years it has been said by pigskin pundits that the key to winning football is in the run game. That belief has been embedded into the minds of many ...
July 25, 2010
The Redskins have been a complete mess in the past two years. Their owner doesn't know anything about football, Albert Haynesworth has so far been one of the biggest free ...
July 2, 2010
The Bills are in a tailspin. They haven't made the playoffs all decade (and haven't won a playoff game since 1995), they're not always playing in Buffalo for their home ...
July 2, 2010
There are a lot of problems brewing in the Midway. They've tied a good portion of their budget to a small handful of players, made questionable decisions in terms of ...