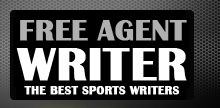 Yankee Addicts
Categories
Featured Sponsors
News published by
October 26, 2010
The Steelers victory over Miami should be taken for what it is—a gritty road win against a tough opponent. Make no mistake, the Steelers were not perfect. Far from it in ...
October 12, 2010
The absence of one player can't make that big of a difference, can it? If that one player is the dynamic Troy Polamalu it seems it can. It didn't take long ...
October 8, 2010
Through the first four weeks of the season, the Steelers were far from perfect. That being said, they still managed a 3-1 record and a first place tie with Baltimore ...
March 26, 2010
The Steelers have put themselves in a good position heading into the draft. They addressed a number of depth issues at some key areas during their recent free agent spending ...
March 18, 2010
The Steelers locked up Casey Hampton for another three years and can now start looking for an eventual replacement for "Big Snack", possibly in this year's draft. There are a few intriguing ...
March 13, 2010
Ben Roethlisberger and Terry Bradshaw have both won multiple Super Bowls. Bradshaw is a Hall of Famer, Roethlisberger's career is headed in that direction. They have both established themselves among the ...
March 10, 2010
The Steelers dove head first into free agency and have come away with mixed reviews. One thing is certain, they have added much-needed depth to some significant areas. Bringing back Ryan ...
March 2, 2010
With the signing of Casey Hampton complete, the Steelers could turn their attention towards their most glaring weakness. Poor play from the cornerback position was part of the reason for the ...
February 25, 2010
It's that time of year again. The free agency period is about to start and everybody and their uncle has an idea of what their team should do. Steelers fans have ...
February 24, 2010
The Steelers have been neglecting their defensive line in the draft for years, and it's starting to show. Over the past five years, while the Steelers' line has gradually gotten older and ...