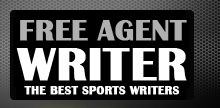 Yankee Addicts
Categories
Featured Sponsors
News published by
April 21, 2011
Early March I wrote an article predicting two possible draft choices for the Browns, outlining each round of the upcoming draft that I thought would be the best possible pick for them ...
March 6, 2011
With the NFL Draft less than two months away, Cleveland Browns fans have been speculating like crazy who their favorite team will be selecting at the end of April. The ...
September 23, 2010
This offseason was a busy one for the Philadelphia Eagles. Tom Heckert, the team's GM, left for Cleveland to fill the same role but to have more power. Soon after the ...
August 20, 2010
The Cleveland Browns host their first game of the new season facing the first overall draft pick Sam Bradford and his St. Louis Rams. As training camp comes to a close ...
August 6, 2010
The 2009 Cleveland Browns were desperate for more wins heading into the final weeks of the season. Between their two starting quarterbacks, Brady Quinn and Derek Anderson, the Browns threw ...
July 28, 2010
Training camp starts July 31st in Berea, Ohio for the Cleveland Browns. This will mark the first season in the Mike Holmgren era. Although Holmgren isn't going to be the coach, ...
July 13, 2010
We are a couple weeks from training camp and with many additions to the roster since 2009, the depth chart seems like it will shape up a lot differently than ...