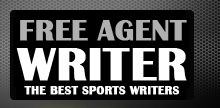 Yankee Addicts
Categories
Featured Sponsors
News published by
August 25, 2010
The pre-season is only the pre-season, we all know that. Results don't matter that much, as for much of the game the second and third string players are on the field ...
August 20, 2010
We have discussed players on the wrong side of the roster bubble, who may not make the final cut down, so now onto those players on the right side of ...
August 17, 2010
The Oakland Raiders got a lot better in the off season this year. In fact they may have made more improvements to their team than any other franchise in the ...
August 16, 2010
Al Davis has has likened the 2010 Oakland Raiders team to the one which won the Superbowl in 1980 with Jim Plunkett leading the way.Praise indeed.It has to be said, ...
August 13, 2010
It might be only preseason (which doesn't count for much in the real world), but the Oakland Raiders reaped the benefits of a vastly upgraded defensive front seven against the ...
August 10, 2010
It happens every year, players who finished who finished at the top of the depth chart last season slide, and others who thought that they had little chance to make ...
July 27, 2010
So passes Jack Tatum, one of the truly greatest players ever to grace the silver and black. Jack Tatum died today of a suspected heart attack after long suffering from diabetes. There never ...
June 28, 2010
From the team that brought us the "vertical game," here is a list of the top 10 wide receivers in Oakland Raiders history. I have no doubt that any list of ...
June 18, 2010
The Raiders' roster has had quite a work over this offseason, as a number of positions of weakness have been addressed through the draft, trades, and free agency. That means that ...
June 14, 2010
What has been abundantly clear over the last 12 months is that the Oakland Raiders have had a total change in their defensive philosophy. Since their last appearance in a Super ...