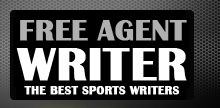 Yankee Addicts
Categories
Featured Sponsors
News published by
April 6, 2010
There is plenty of speculation about who the Raiders will take with their No. 8 pick, but one thing that just about everyone agrees on is that they need to ...
March 30, 2010
There have been consistent rumors about Oakland trading for Donovan McNabb, with a move including Asante Samuel from the Eagles and Nnamdi Asomugha from the Raiders.  The rumor apparently ...
March 23, 2010
There are some big questions left to answer for the Oakland Raiders heading into the 2010 season, and whilst many of them might be answered on draft day, it is ...
March 19, 2010
The Oakland Raiders have had a less-than-perfect record when it comes to first round draft picks since 2000.  If they hope to make a better start this decade, then they ...
March 11, 2010
The Oakland Raiders have been uncharacteristically quiet this off season, with no big- name signings as in previous years. But the release of some key veterans, and the free agent ...
March 7, 2010
So every now and then, Adam Schefter gets it right with the Oakland Raiders.  Or half right anyway. Two days ago, Schefter blogged that the Raiders were about to release running ...
March 4, 2010
The Oakland Raiders gave their strongest indication yet that Kirk Morrison might be on his way out in the East Bay by giving him an "original pick" tender in free ...
March 3, 2010
Despite the fact that the NFL Scouting Combine is more about a players athletic ability and how they perform in shorts than actual on field football ability, it can ...
February 18, 2010
Everybody knows Oakland has to fix the offensive line if they are to be competitive in 2010, whether through free agency or the draft. Given their current starters and depth of ...
February 14, 2010
Every year it happens. Al Davis is a numbers guy, and he drafts players with impressive size/speed combinations. His theory is that you can teach a great athlete to be ...