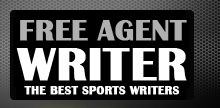 Yankee Addicts
Categories
Featured Sponsors
News published by
January 2, 2011
(Warning this blog contains asinine puns and pop-culture references that might not be suitable for starving artists). Judging by the title, you might think that is a non-sequitor, but follow me ...
December 20, 2010
This may only be apologetics because many in Raider Nation expected that the Raiders would earn a postseason berth in the 2010 NFL season. But after defeating the Denver Broncos ...
December 13, 2010
Perhaps this is just the wishful thinking of a fan, but even after the Oakland Raiders squandered a late lead to the Jacksonville Jaguars and lost 38-31, the Raiders are ...
October 31, 2010
(This slideshow includes all my picks for the 2010 Pro Bowl).It's that time of year again. No, not the day before Halloween, or another publicity stunt in Washington.  Not the ...
October 18, 2010
There are plenty of nuances I could state about today's game between the San Francisco 49ers and the Oakland Raiders, but I won't.  That is not to say that nuances ...
September 27, 2010
This should not be confused with a speech on the power of positive thinking.  This, however, is a lecture on the power of defeatism.After the last-minute loss by the Oakland ...
September 8, 2010
I have recently played the new Madden quite extensively.  I can admit that I love the Madden games, although I discourage perceptions derived from Madden. For instance, one writer on B/R ...
September 6, 2010
No strangers to controversy, the Oakland Raiders have created some buzz amongst fans and pundits alike with a few unexpected last minute moves that have left us guessing, after an ...
August 31, 2010
Ever since the New England Patriots were outed in 2007 for stealing signals, I have had to ask a simple question: What is cheating? Don't worry Pat fans (aka, Patsies), I'm ...
August 21, 2010
This is unbelievable. It's like Greek tragedy.Two days more than a year to the day that Jay Mariotti wrote his fork tongued rant about the Oakland Raiders on AOL Fanhouse ...