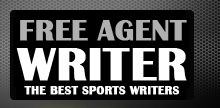 Yankee Addicts
Categories
Featured Sponsors
News published by
August 2, 2010
I recently read a blog that pointed out that ESPN and other mainstream outlets of the sports media are picking the Oakland Raiders as a strong dark horse team that ...
July 28, 2010
This article is a follow-up to a previous article on the topic of whether Patriots quarterback Tom Brady is great.   You see, I have used Tom Brady as an example for ...
July 21, 2010
(This article is intended for Raiders fans, but also Patriots fans that are angered because I have ripped the perception of Tom Brady). As a Raider fan, it irritates me that ...
July 18, 2010
(After extensive research, I decided to keep this article fairly straightforward and informal.  If you'd like to see my notes and bibliography on this, you can make that request by ...
July 3, 2010
I recently read an article that dubs the top player in the history of every team in the NFL. Overall, I thought that article had strong points, but it ...
June 18, 2010
  (This article is a detour from the typical discourse in sports writing, but I will appreciate any thorough reading and discussion.) Over the past two years, I have written a number ...
June 11, 2010
Are we dreaming in Raider Nation?  Someone must be listening.  The Raiders have reportedly signed free-agent defensive tackle, and former Jacksonville Jaguar, John Henderson. Henderson had fallen out of favor with Jacksonville head ...
June 8, 2010
At this point, Raider Nation can breathe some fresh air, because the climate in Oakland seems to be on the upswing now that JaMarcus Russell is gone.  Nevertheless, the negative ...
June 5, 2010
So far so good this offseason for the Oakland Raiders.  Critics will say that Raider Nation says that every year, but I can honestly say that 2010 has been different and ...
May 9, 2010
The debate goes on.  Is JaMarcus Russell of the Oakland Raiders the biggest bust of all time? In order for that to be true, Russell must surpass Ryan Leaf of the San ...