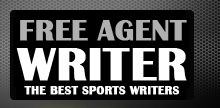 Yankee Addicts
Categories
Featured Sponsors
News published by Dawgfather
October 12, 2010
Fellow Dawgs,   Enter the 16th starting QB for the Cleveland Browns, #12 Colt McCoy. It looks like Browns fans will get to see Colt McCoy sooner rather than later. As first ...
October 11, 2010
Fellow Dawgs,    Just when I thought I would never live to see the day that a starting Browns QB would make Derek Anderson look like Johnny Unitas, along comes the ...
October 4, 2010
Fellow Dawgs,   For once, there was no dramatic Carson Palmer scramble or a clutch dagger throw to beat the Browns. This time, the Browns took it to Palmer and finally showed ...
July 3, 2010
Fellow sports fans:    Indebted is defined as being bound to, grateful for, or being beholden to someone or something.   NFL Hall of Famers such as Dan Fouts, John Madden, and ...
May 3, 2010
When ESPN columnist Jeffri Chadiha says that your best acquisition was executive Mike Holmgren, then you know you're in trouble. Ouch!    Chadiha has the Cleveland Browns ranked 27th in the ...
May 2, 2010
Browns Backers,    Now that the 2010 NFL Draft has come and gone, the Cleveland Browns have positioned themselves to improve in areas of need such as the secondary, with the drafting ...
April 27, 2010
Browns Backers,    Let me first start this column off by saying, that me being off on the Browns taking Clausen at No. 7 is a serious understatement.    Obviously, Tom Heckert ...