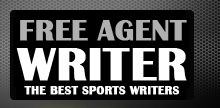 Yankee Addicts
Categories
Featured Sponsors
News published by
June 11, 2010
This Q&A with DHB was found on the Oakland Raider's official website. Again, I have to start this article out by saying, this is not my work. I'm tired of reading the ...
June 9, 2010
First I wanted to say I found this article by Gregg Rosenthal (I'm not trying to take credit for his material) posted on PFT today and wanted to share it ...
June 7, 2010
With such names like Kenny Stabler, Jim Plunkett, Marcus Allen, Dave Casper, etc (I could go on all day). It's easy to overlook the guys that were not as ...
June 5, 2010
I don't know about you, but I like Fantasy Football. What really gets me excited is when a Raiders' player has a real chance at having an impact on a fantasy team. During the 2010 ...
June 5, 2010
The Atlanta Falcons are coming off a disappointing and injury plagued 2009 season. Coming into the 2009 season, the Falcons were expected by many experts to win the NFC South. Coming ...
June 4, 2010
Drew Brees enters the 2010 season as the top pick at Quaterback in all fantasy leagues.  Brees has been one of the top fantasy Quarterbacks over the past few seasons, and will be the ...
June 4, 2010
Maurice Jones-Drew was as advertised last season, in almost all formats he was a top three fantasy back. He set career highs in many categories, including carries (312) yards (1,392) and ...
May 30, 2010
The Bucs were last against the run last season which is uncharacteristic for a team that had one of the best defenses in football just a few short seasons ago.  Enter Gearld McCoy. The three-technique position will ...
May 30, 2010
We all know that football is a team sport and it takes an entire team being on the same page for a successful season. With that being said, you need big ...
May 26, 2010
In 1960, the silver and black, then a member of the AFL, played their inaugural season across the bay in San Fransisco and shared Kezar Stadium with the 49ers. The 49ers ...