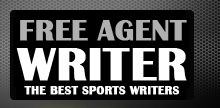 Yankee Addicts
Categories
Featured Sponsors
News published by
May 23, 2012
The Kansas City Chiefs excelled the last few years in building a strong base of talent. With solid draft classes in previous years and shrewd free-agent signings, the 2012 Chiefs ...
April 11, 2012
The NFL never sleeps, not anymore and not at any point in the year.In March, for instance, it's free agent season. Marquee players find new teams and big money, while ...
November 19, 2011
The Denver Broncos jumped into the AFC West playoff race, but is Tim Tebow's long-term development worth the price?In the heat of Denver's 4-1 turnaround since Tebow took over as ...
June 24, 2011
With a glimmer of hope showing in the ongoing labor talks between the owners and players, fans and coaches alike can start getting excited about this year's upcoming free agency.Finally.However, ...
February 6, 2011
Defense wins championships. It's an often, arguably overused phrase to try bringing some sort of sense and formula to how a team can align themselves for a shot at the Lombardi ...
December 9, 2010
Hope abounds in Kansas City for a shot at the AFC West title and playoff berth, their first in years.  Everything seems to be coming together for the Chiefs.  Their ...
December 6, 2010
Christmas came a little early for Kansas City Chiefs fans this year. Despite a division-leading 7-4 record, the Chiefs have been anything but favorites to make the playoffs.  Kansas City had ...
October 9, 2010
There is no way Kansas City can beat the defending AFC champion Colts on Sunday. Uh-huh. There was no way the Bismarck or Titanic could be sunk, either. Man would never walk ...
September 26, 2010
The last three weeks have been quite a wild ride for Chiefs fans. Pulling ahead in the AFC West to a 3-0 record, Kansas City has now beaten two projected playoff ...
March 18, 2010
Seattle's recent trade with San Diego for quarterback Charlie Whitehurst should have been relatively innocuous. Picking up a player who, outside of his own club or college hometown, is virtually unknown ...