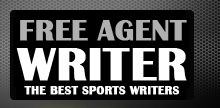 Yankee Addicts
Categories
Featured Sponsors
News published by
March 17, 2010
Never let it be said I'm above eating my own words. Three days after I laid into the Chiefs for their lack of activity in free agency's opening days, Kansas City ...
March 6, 2010
The saying about March is "In like a lion, out like a lamb." That may be true for the weather in some places, but if we were instead talking about free ...
January 6, 2010
Chiefs offensive guard Brian Waters has spent the last ten years protecting teammates, whether opening lanes for running backs, or holding off defenders as his quarterback looked for the open ...