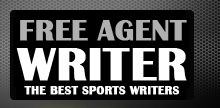 Yankee Addicts
Categories
Featured Sponsors
News published by
March 24, 2011
Just a few days ago, Dez Bryant and friends were in North Park Mall—an upscale shopping mall—when a an off-duty police officer asked Bryant to tell his friends (not him) ...
January 14, 2011
The Cowboys season is over and now they're working towards next season. However, we'll take one last look at the Cowboys 6-10 season position by position. Although it was an ugly ...
January 11, 2011
Jason Garrett has officially been hired as the Dallas Cowboys after going 5-3 to end the season and Jerry Jones conducting interviews with potential candidates (yeah right). Now that the press conference ...
December 27, 2010
Last year, the Cowboys had a few stand out players that made big plays in big games on their way to the playoffs. This year those same players could be ...
December 24, 2010
The Dallas Cowboys and Arizona Cardinals play on Christmas night, as both teams look for a few more positives before the season ends.    Cardinals 1. Get Skelton in rhythm early: John Skelton ...
November 24, 2010
The Saints head to Dallas to try to stay on the Falcons in the NFC South, while the Cowboys try to continue their resurgence under Jason Garrett.   Saints 1) Come out fast In last ...
November 15, 2010
When Jason Garrett took over the Dallas Cowboys, no one expected much of a change within the team. However, yesterday the Cowboys and played their best football of the season, ...
November 12, 2010
The New York Giants come into Sunday's game as the most consistent team in the NFC east, while the Cowboys try to revive their season after their coach has been ...
November 8, 2010
After the Packers annihilated the Dallas Cowboys, Jerry Jones had a lot to say about his team and the direction that they're going in. "There are a lot of people here who ...
October 27, 2010
Tony Romo may have been the most significant injury to the Cowboys, but he may have company on the sidelines next week.    Quarterback Tony Romo suffered a broken collarbone during Monday ...