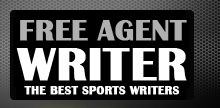 Yankee Addicts
Categories
Featured Sponsors
News published by
October 27, 2010
After Monday night's loss to the Giants and Tony Romo expected to miss 6-8 weeks with a broken collarbone, the season is over for the Cowboys. Some may still be ...
October 22, 2010
The Giants are trying to put together a three game winning streak while separating themselves from the rest of the NFC East pack, while the Cowboys are making their last ditch ...
October 18, 2010
The Dallas Cowboys once again let their mistakes write the story of a game as they lost to the Minnesota Vikings, 24-21. The Cowboys once again committed too many penalties ...
October 11, 2010
Tony Romo threw for 406 yards, Miles Austin had nine catches for 166 yards and a TD, Felix Jones had 15 rushes for 106 yards, even Roy Williams had another ...
October 6, 2010
Dallas was able to get healthy during the bye week and will now be at full strength when they take on the Titans. Tight end Jason Witten (knee) did not practice ...
September 13, 2010
The Cowboys came into this season considered one of the best teams in the NFC East and a legit contender to make the Super Bowl. Then they came out against ...
September 7, 2010
While it seemed a few weeks ago that the Cowboys would be without several starters for their season debut, every day it looks more like they'll be close to full ...
September 5, 2010
The Cowboys made their final cuts today before the 5 pm deadline and while most of the cuts weren't surprising, there is one that definitely stands out.  Cletis Gordon, who had ...
August 18, 2010
The Cowboys already have significant injuries on their offensive line. Marc Colombo is out until the first game of the season and Alex Barron is questionable for this week's preseason ...
August 16, 2010
The Dallas Cowboys now head to California for the second part of their camp, however the injury bug has followed them.  Lineman Marc Colombo was injured during the second portion of ...