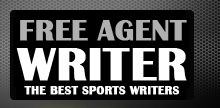 Yankee Addicts
Categories
Featured Sponsors
News published by
November 24, 2010
As an NFL fan, I love watching the game of football. As a Steeler fan, I particularly love watching physical football. One of the biggest aspects of the sport for ...
October 29, 2010
When the Cowboys lost their 5th game of the season and lose their starting QB, they also watched their Super Bowl chances go out the window.This is even more significant ...
October 29, 2010
There are plenty of exciting NFL games to watch in Week 8. The Indianapolis Colts will try to exact some revenge on the Houston Texans. Randy Moss leads his new ...
August 23, 2010
The third preseason game is upon us. This is the game where the starters get the most playing time.However, it can also be a statement game for players on the ...
August 20, 2010
Media Darlings: Favorite players of those in the mediaEveryone has their favorite players, and the talking heads on TV love to push their favorites on the fans.This leaves certain players ...
August 16, 2010
The Pittsburgh Steelers season is under way.Well, the preseason anyway.Teams don't necessarily look to win every preseason game. They look to find the best talent on the team to win ...
August 13, 2010
Why is it that every article I read that has any relation to the Pittsburgh Steelers, feels the need to tell me that Ben Roethlisbergers suspended! Even if the story has ...
August 6, 2010
The season is coming up on us quicker than ever, and has already provided us with more headline stories than years past. Brett Favre's annual will-he-won't-he, Kurt Warner retiring, T.O. in ...