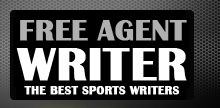 Yankee Addicts
Categories
Featured Sponsors
News published by
February 21, 2011
Predictions are just that:  predictions.  And if we've learned anything over the years about projecting how well a player will fare at the NFL level, it's that there's certainly no ...
November 5, 2010
With Matt Hasselbeck out due to a concussion he suffered against the Oakland "Block-Me-Not's," Charlie Whitehurst will get his first official NFL start on Sunday at home against the Giants. For many fans, a ...
September 21, 2010
After taking another in-depth (and yes, painful) look at the video of the Seattle-Denver game, it's clear that the Seahawks offense failed to take advantage of several opportunities to prolong ...
September 1, 2010
ESPN Insider Adam Schefter is reporting that the Seahawks have traded cornerback Josh Wilson, a former second-round pick (55th overall in 2007), to the Baltimore Ravens in exchange for a conditional fifth-round ...
July 28, 2010
The National Football Post is reporting that Golden Tate and the Seattle Seahawks have come to terms on a four-year deal that will pay Tate $3.261 million and includes $1.471 ...
July 2, 2010
It's been an interesting few days with speculation growing that the Chargers may be willing to part ways with Vincent Jackson. Word got out a little more than a ...
June 22, 2010
One day after being released by the San Diego Chargers, former USC Trojan safety Kevin Ellison was claimed off waivers by the Seattle Seahawks. You can add Ellison to the growing ...
June 17, 2010
Adam Schefter of ESPN is reporting that O.J. Atogwe is scheduled to visit the Seattle Seahawks next week. He was a restricted free agent until the Rams declined to offer ...
June 3, 2010
The Seahawks added former UW quarterback Isaiah Stanback to the roster this week, claiming him off waivers from New England.   A beloved Husky returns! Yay! Stanback, who has seen limited playing time ...
June 1, 2010
The Seahawks announced today that they have signed sixth-round draft pick Anthony McCoy to a four-year, $1.895 million contract. McCoy is the first of the Hawks' nine picks from ...